Our current hours of operation are:
Wednesdays 2-7 pm, Fridays 2-7 pm and Saturdays 7 am-noon.
Please stop and take a look around - you just might find something you'll like!!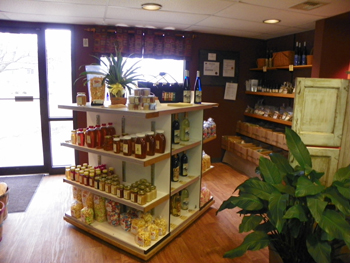 Vendors
Hibbs Farms
Hansens' Dairy
Frisian Farms
Pappardelle's Pasta
6 C's
Early Morning Harvest
Whole Grain Milling
Berkwood Farms Pork
Jeanne's Soaps
Ben Jack Laredo
Clear Creek Orchard
O'Brien's Own
Elsie's Kitchen
Chieftain Wild Rice
Dolezal Honey Bees
LaCasa Ltd.
Sterzings
Pasta of the Prairie
Papa Rico's
Picket Fence Creamery
Hoganville Family Farms
Heritage Grove Soap & Co.
J-Key Eggs

WE ARE NOW OPEN
Welcome to The Market Off Main located in Albion, Iowa. We are a very small market, specializing in locally grown/produced or unique foods often not available in most retail grocery outlets. In fact, most of the items in the market have only been available at farmer's markets during the summer months.
All of the items in our market are available all year round and custom orders for products are welcome.
All of our meats are locally born and raised and processed at 1ACB licensed facilities. All of our dairy products are from licensed dairies as well.
Our market may be small, but we have many, many different food items available, hopefully being able to satisfy even the most discerning shopper!